Hi all hope this might be of help to some people 😊 I bought myself the front and rear strut braces so though I would fit them myself 😊 however the parts come with no instructions....so I had a quick look on the Internet and forum but I coulnt find anything so got advice from others that have fitted them and set about doing the job so here goes 😊
What u will need
Front and rear strut bars 😊
And tools
10mm socket
12mm socket
17mm spanner
Rachel extension
Stanley blade
Torque piece
So first up u need to remove the wiper blades and scuttle panel
Undo the 2 15mm nuts and lift of the wipers and the scuttle panel can come of aswell so will look like this
U will then need to remove the old strut bar
Undo the 3 nuts with the 13mm socket on both sides and pull the strut off
The new strut is quite a tight fit so u might need to adjust the end plates with the 17mm spanner and a big Allen key(can't remember the size) the strut sits on the front 2 bolts.once all lined up nice put the nuts on a tighten them up(also tighten up the end plates if u needed to adjust them)u can then replace the scuttle panel and wipers job done 😊
Like this
Finished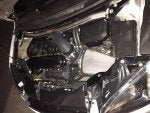 Note: u do get spacers and longer bolts that for on the passenger side to clear the battery box I didn't fit these as the clearance was ok on mine
personal choice I guess if u want to fit them.
Battery clearance
Rear strut
This is a little more hassle as the wheels need to be removed
First of remove 1 wheel,u then need to remove the 2 10mm bolts from the shocks using the ratchet and extension bar (do 1 at a time)
These
And replace with the new longer ones that are 12mm bolts...repeat for the otherside.
Longer bolts
Fitted
Note: u don't need to remove the carpet and plastics I did for pics.
Once u have fitted the new bolts u will then need to make a cut in the carpet for the bolts to come through,u can feel where they are to cut, will look like this when done.
Then fit the new strut on top add the remaining nuts and washer and tighten down.
(Again u might need to adjust then end plates to fit)
Finished
Hope this is of some help to others
Cheers