I'm best known on other sites and facebook as Mr 200 or Mr Data.
I spent years compiling the ST200 and ST220 data bases.
And this money pit is the reason I made the first one, the ST200 data base........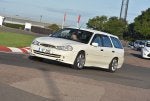 Number 3 of 21
Anyway,
I have just used the same methods to compile a Focus ST500 data base.
I know when asked most ST500 owners will go "I'm not bothered" or "I have No 1" or even "What ever".
But I have if you are interested all 500 ST500s in VIN order.
There are 353 3 door and 147 5 door cars all built for UK market.
I have been unable to confirm if my data base is right, as surprise surprise, there isn't another one to compare it to
I will gladly dispense with what I know for free as I do for the ST200 and ST220.
I also expect a certain amount of scepticism and ridicule :rofl: