Well guys i bought a towbar for my other car, a focus zetec and thought i would see if it is possible to fit it on my ST, I know some people would like a towbar for small trailer use and here is the results. I know the ST is not tested for use as a towing vehicle and would invalidate your warranty and insurance so i do not reccomend you fit one permanently, just wondered if it was possible, and it bolted straight on with no need to cut the bumper.
Trial fit of towbar.
Clearance between exhaust.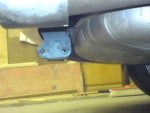 This is all that is visible when detatched.
[/size].