Today was the last day that I could MOT the car before it was 3yrs old,and as expected it passed
.
So i've owned her for a year and to be honest it still gives me the stupid grin when I give it some ping,
this is not the only car i've owned that has given me that feeling but i'm 42yrs young and was 21 the last
time that I felt like this driving a car.
My last fast ford a mk11 RS2000 in signal amber with a BVR,and to be honest I loved it,but my hand was never
out of my pocket,every week I had to buy a set of points and a condenser just to keep it going!
Then the modding bug caught on early,janspeed exhaust and 3 piece manifold,k&n,2.8i bilstein front legs and
vents etc etc.......
Back to the
,the grand some of £224(2xtyres) has been spent in a year by me,the warranty items that have been
replaced by ford during my ownership are drivers door check strap(my fault,wind caught it,but chanced my arm anyway!)
and the CD radio was replaced due to the CD's jumping(still does it when renewed) and more recently the ABS module
was replaced as the traction control light was on all the time(thank god it was warranty £1400
).
I spoke to her indoors about replaceing the
as the manufacturers warranty was out,but when I bought the
I got an extended warranty thrown in (which starts on monday).so after a bit of consideration i've decided to hang on
to her for possibly another year
.BTW standard is the new mod!!!!!!!
For anyone thats bovered here's me old mk11,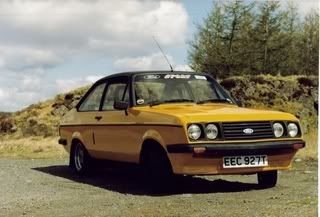 From old skool to new skool